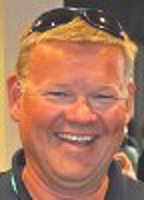 Joni Nuorivaara General SecretaryA warm welcome to the website of the ICCY. We are a community of cruisers from 12 European States and the USA.
Our motto - The sea and the friends we make from it - clearly describes the ideals of our organization. There is no membership fee, just benefit to have warm and reliable international relationships. Well organized events - The rallies - are the platform to enjoy this asset and even
expand it more.
All Cruisers - motor or sailing - are warmly welcomed to our great community!
Please contact me joni.nuorivaara@iccy.org if you wish to get access to member section.

Read more of our background Background to the International Council of Cruising Yachts by Isobel Porter UK.
Due to Covid -19 pandemic 39th Summer Rally has been pushed forward to July 2021.
Location Kuressare, ESTONIA.
Contact : Joni Nuorivaara, I.C.C.Y. General Secretary
Phone : +358 50561 1504
E-Mail : joni.nuorivaara@iccy.org
Follow us on Facebook