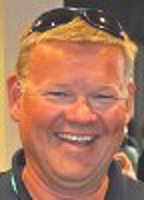 Joni Nuorivaara General SecretaryA warm welcome to the website of the ICCY. We are a community of cruisers from 12 European States and the USA.
Our motto - The sea and the friends we make from it - clearly describes the ideals of our organization. There is no membership fee, just benefit to have warm and reliable international relationships. Well organized events - The rallies - are the platform to enjoy this asset and even
expand it more.
All Cruisers - motor or sailing - are warmly welcomed to our great community!
Please contact me joni.nuorivaara@iccy.org if you wish to get access to member section.

Read more of our background Background to the International Council of Cruising Yachts by Isobel Porter UK.
39th Summer Rally takes place in Mariehamn, Åland 31.7.-4.8.2022.

Autumn meeting shall take place in Uppsala, Sweden on 20.-23.10.2022.
Contact : Joni Nuorivaara, I.C.C.Y. General Secretary
Phone : +358 50561 1504
E-Mail : joni.nuorivaara@iccy.org
Follow us on Facebook